Our dog history (long post) part 4 - Polly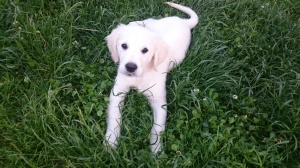 Hey guys!
Fourth (and so far, last) chapter in our doggo story. I've written about our dogs in the order that we got them, so today I'm going to write about our fourth baby, (my baby), Polly.

Picking up where we left off yesterday; we put down Mini on a thursday. It was a really hard decision, and leading up to it, my brother was like no, we can't do it because I need to have another dog to fill the void, it can't just be Tosen. This actually isn't that uncommon when it comes to grief, trying to fill the empty space to feel a little more complete. Me and mom wasn't into the idea of having a new dog and a new "obstacle" when wanting to do something, because Tosen, who we had at the same time, was old and she didn't mind being left alone for a couple of hours.
We finally agreed to get a new dog and we googled around for a suitable one. Since our "previous" dogs were adopt, we decided to go for a shop-dog this time. The day after we put down Mini we visited a professional breeder who focuses mainly on golden retrievers. We told her about our situation and that we already had an older dog at home, and put down Mini the day before. Super kind, I'm so thankful for her help and guidance and everything she's done for us. I still have contact with her and even though we've never been to one, she has like "puppy dates" where all of the puppies can meet once a month during the summer and she really cares about the dogs that she sells.
This experience was very different from when Mini was bought because here we came to this breeders house and the first thing we did was meet the momma dog, who was happy, playful and so tired of having her puppies around. We didn't feel bad about buying one of them.
Polly was 10 weeks old, and since a couple of puppies were still left, the breeder first put all of the male puppies in another room, because we wanted a girl, and then we sat down on the floor and as we got to know the puppies, she told us all about them, their parents, their heritage and in what ways she could help us and show us how to care for a puppy etc.
We decided on the baby of the bunch and the breeder was gonna deliver her to us on monday, because she needed to get her shots and this way we didn't have to do that on our own.

On saturday, the next day, me and mom went shopping or something. We had our new car, we just bought a puppy, we just put our other dog down (which was hard, but also a minor relief), and we decided to just take a day to ourselves. What I haven't written about yet is that my maternal grandma had Alzheimers, and for the last 8 months of her life she lived at a retirement/nursing home. She was in bad shape, and from the start of her coming there she couldn't do anything on her own. She fell at home on her carpet or stool or something, and that triggered the Alzheimers even more, and the also suffered a head injury. On that saturday we were both super happy, laughing, thinking about the future, and we decided to visit grandma at the home. When we got there it was like the air had changed completely and we just felt that something was wrong. And it was.
We were greeted by a staff member who told us that they were just about to call us and tell us to come visit her because this was it. And we went into her room and held her hands for hours, telling her all the happy memories we could think of. And then she passed.

We came home late at night, and found out that my dad was in town with his family to visit us and have a mini vacation. Perfect weekend for this, when we had literally just lost everything that meant something to us. Me and mom showed up at the funeral home and went through some stuff, then I had to leave town for awhile to do something that I can't remember and before we knew it, it was late in the evening again. And then on monday, I babysat my sister for a couple of hours, but I told dad that we had to meet up later because I was gonna hang out with a friend. Instead, me and my mom went home to my brother and awaited the arrival of Polly.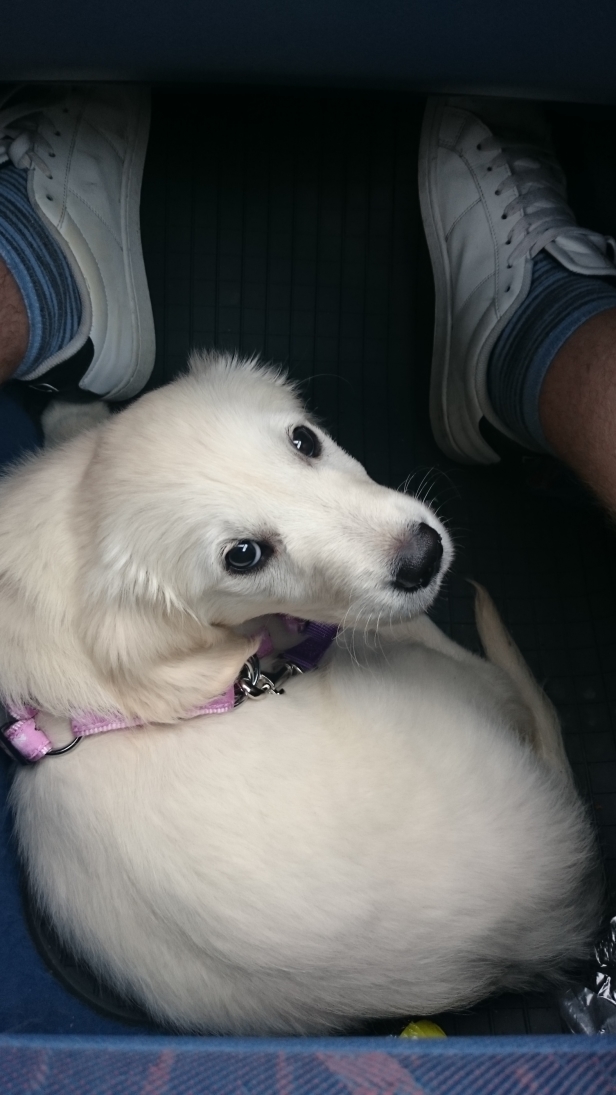 She was soooo wild and crazy, bit everything, had a freaking attitude problem to the point where I cried constantly because she would "attack" me, and she was so annoying and hard trained. Going from a dog who is smart and learn stuff by being shown twice, at most, to a small maniac with too much energy and zero chill, was hard.

Having a puppy isn't easy, especially after going through all of this right before getting her. My mom went into this translike state where she shut out the world for awhile because she had just lost her mother, and my brother who had just lost the dog that meant the world to him, didn't take the time to get to know Polly.
However, Polly was just the thing I needed to stay afloat, but because of this, I was for a long time the only one who took care of her. I was the one that set the rules, I was the one that walked her and fed her the times my mom didn't feed her, and I dedicated my sorrow for her happiness. And in return she made me forget feeling sorry for what had just been.

Around 3 months old she became a pure asshole. Me and a neighbor used to walk Polly and the neighbors dog and everytime she would bite the leash, run like crazy, she would eventually go on to bite me, my clothes, my hands, my face. There wasn't a day I didn't come home bleeding from our walks, and I felt like we had to give her back because I couldn't do this on my own. It was so extreme that, and I don't like to say it but literally nothing else helped, I would have to push her down into the ground, or basically drag her all the way home just so that she would stop biting me. So what I'm trying to say is that it's not only adopt-dogs that are hard to handle. Every dog is different and unique.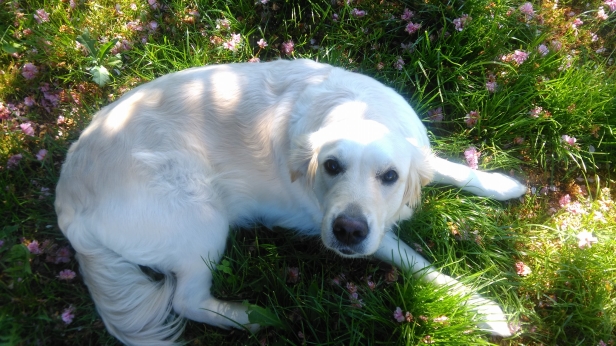 Polly is currenty 2 and a half years old, she the dog I've always wanted and I'm so thankful every day for her. We spend most of our days together, because when I'm sleeping she usually sleeps next to me and when I'm awake she's usually at my side. I'm not the only one taking care of her anymore, which makes me happy because every dog should feel as much love as possible (and I also don't need to get up super duper early to walk her). She makes my days complete.

Love you guys
Love you mom
Love you Polly, Mini, Tosen and Ina
❤️