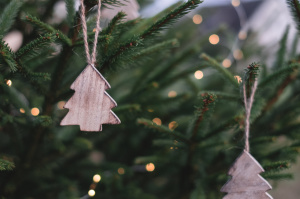 Hey guys!
So yesterday was our first Christmas this year which we celebrated at my grandpa on my mother's side. He's the only "older generation" relative that I still have left, so celebrating Christmas with him and the rest of the family is really important to me.
Bought a new long t-shirt dress yesterday together with mom, who bought a cute top for herself, so we were really out late with getting dressed. We still managed to get there on time, despite a long drive and driving later than we hoped we would, and then the afternoon-evening went perfect. It was just like always nice, cool and all smiles and we left there really happy. While driving home it started to snow, which we didn't anticipate, so a drive that takes roughly an hour took us almost two hours.

As a tradition we each year get assigned a person that we're supposed to buy a present to, Secret Santa-style, and me and mom got two of my cousins and my brother got my grandpa. Turned out good. I got gifts from my grandpa's wife, two books (Lee Child's Nothing to Lose, and Three Minutes by Roslund & Hellstrom), as well as a notepad. Haven't read the books but I've looked up Lee Child a couple of times before so I'm happy to have been given something different than what I usually read, (and also my book collection grew with two books, which is a big freaking win).
Me and Sebastian went out after we came home and took some pictures of the snowy landscape, but bare in mind that I'm not a photographer. I would like to be one but I don't have the patience, money or enough interest. Or things to take pictures of. But here are a couple from yesterday, shot with an HTC U Play.
I'm trying to write shorter posts since I usually write so, so much, and I know that it can become boring when faced with a massive wall of text, but there's probably gonna be a longer post for Christmas so stay tuned for that. (Brace youself). I've been asked a couple of times if and how Swedes celebrate Christmas so I thought that hey, why not talk a little about Swedish traditions?

I love you guys
And I love you mom
❤️
Head picture borrowed from Pexels.com